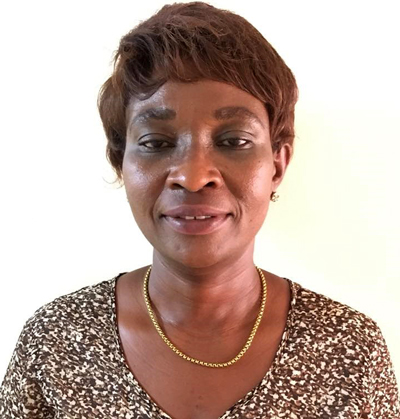 Mrs
Monica Addison
Research Fellow
Department
Email
Office-location
Research-areas
Gender and development studies
Rural and agricultural development studies
Commodity value chain analysis and development studies
Baseline and impact assessment studies
Policy formulation, implementation, monitoring and evaluation
Monica holds an advanced degree in Development Policy and Planning with more than 15 years' experience in working with local and international non-Governmental Organizations.  In her current position as the Research Fellow at Bureau of Integrated Rural Development (BIRD), she is involved in conducting research as well as mentoring, teaching and supervising student thesis. Monica's attention to detail and excellent problem-solving skills ensure that every research assignment she carries out is done accurately and to the highest possible standard. Her verbal communication skills and positive attitude makes Monica an effective communicator with her colleagues and students. Within the period of four (4) years that Monica joined BIRD, she has made a positive impact on the research community locally, nationally and globally. She has five (5) publications to her credit.
As a gender expert with strong expertise in organizational development and results-based management, Monica provides technical support to NGOs, CBOs and government organizations to build capacity in gender equality and women's rights. Her approach  to  gender  equality  is  informed  by  the understanding  that  gender  inequality  is  a driver   and   outcome   of   persistent poverty in Africa.  Monica   seeks   to   ensure   that development efforts promote equal access to and control over resources and benefits for all – males, females, youth, aged and physically challenged. She has the capacity to assist partners to undertake gender analysis to inform planning and adjust strategies to ensure that women, girls and physically challenged have an opportunity to achieve their potential.
Monica's current research area is gender and technological innovations in rice sector of Ghana. Funding for her research was mainly through the three-year AfricaRice SARD-SC project-AfDB competitive grant from 2014-2017. The goal of the research is to identify gender related issues affecting development efforts in the country's rice sector. It is expected that, at the end of the research, factors creating gender gap in development efforts in rice sector of Ghana could be identified and appropriate policy recommendations would be made. Some aspects of the current research findings have been presented at local and international conferences and there is on-going process to publish them in reputable high impact refereed journals.